---
Tungsten Carbide Measuring Ball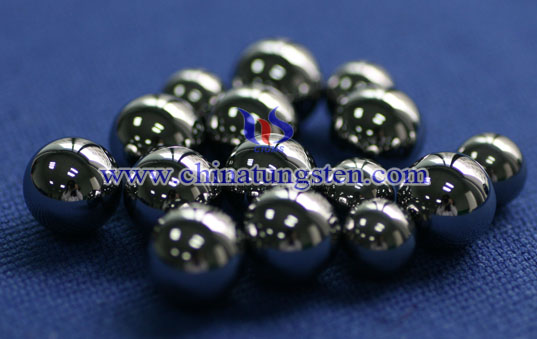 Description
The surface of tungsten carbide measuring ball is finished, and the finish grade is better than ▽10, roundness tolerances with ±Ø0.001mm~0.0035mm, the general sizes are Ø2.5mm, Ø3mmm, Ø5mm and Ø10mm. The balls are used as measuring's ideal choose as the stability properties of tungsten carbide.
Application
Tungsten carbide measuring ball as hardness measuring head, could reach the national standard, which could expand Brinell hardness measurement range.
Manufactureing Process
Powder→Blending→Wet Milling→Mixing→Smash→Dried→Sifting→Add Forming Agent→Dried Again→After Sifting Prepared Mixes→Granulation →Cold Isostatic Pressing→Molding→Sintering→Molding (blank)→Grinding→Packaging→Storage.
Specifications and Price
Sizes mm
Price USD/PC
MOQ
Specifications mm
Price USD/PC
MOQ
Ø1.0
0.02
2kgs
Ø5.0
8.53
10kgs
Ø3.0
0.37
Ø10.0
6.22
All are reference price of YG6, will reconfirm the price after confirm the all requirements.
American standard grinding and special grade will be reconfirmed the price and delviery time.
American Standard Grinding Grades and Tolerance Standard
| | | | |
| --- | --- | --- | --- |
| Grade | Roundness | Diameter Tolerances | Maximum Surface Roughness |
| G3 | 0.000003" | +/- .00003" | 0.5 |
| G5 | 0.000005" | +/- .00005" | 0.8 |
| G10 | 0.000010" | +/- .0001" | 1.0 |
| G25 | 0.000025" | +/- .0001" | 2.0 |
| G50 | 0.000050" | +/- .0002" | 3.0 |
| G100 | 0.0001" | +/- .0005" | 5.0 |
| G200 | 0.0002" | +/- .0010" | 8.0 |
General Grade and Properties
Grade
Composition(%)
Physical Properties
TC
Co
Ni
Density(g/cm³)
Hardness(HRA)
T.R.S.(N/mm²)
YG6
Balance
6
 /
14.6-15.0
91
1600
YG8
Balance
8
 /
14.4-14.8
89
1800
YG6X
Balance
6
 /
14.6-15.0
92
1450
YN6
Balance
 /
6
14.5-14.9
90
1450
YN8
Balance
 /
8
14.4-14.8
88
1650
YN12
Balance
 /
12
14.0-14.4
86
1800
More information about other grades, plesae visit:Traditional Grade
Inquiry & Order