---
Tungsten Carbide Scraping Chromospheres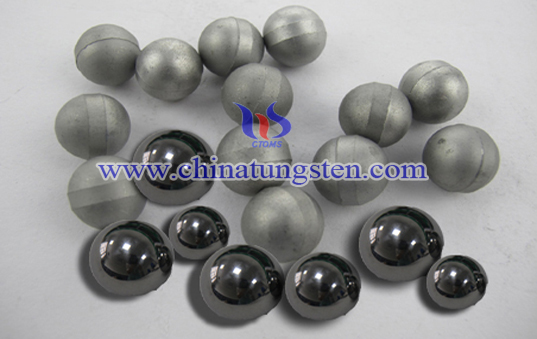 Description
Tungsten carbide scraping chromospheres with finished or blank surface, it is often choosed by personally. Tungsten carbide scraping chromospheres mainly used for detecting the bearing raceway, this alloy ball ruler equivalent to the standard rigid ball bearing mounted.
Application
The product can be bearing class 0 scratch color channel, is bearing, pump, delivery valve, engine accessories, automobile and motorcycle parts, accessories, air conditioning squeeze hole of the best tools, reamer than the provincial workers, save time, regulate the aperture unified, high power, and life expectancy has increased several times. When using a doctor checks the channel curvature of the chromosphere, the principle is: the big ball clear sides, small ball clear bottom.
Specifications
The smallest size of tungsten carbide scraping chromospheres is Ø2mm, the smallest finished ball size is Ø1mm. The size tolerancs of blank ball is ±0.2mm, the surface condition of finished ball is G25. But the specifications and tolerancse are also accept customized.
American Standard Grinding Grades and Tolerance Standard
| | | | |
| --- | --- | --- | --- |
| Grade | Roundness | Diameter Tolerances | Maximum Surface Roughness |
| G3 | 0.000003" | +/- .00003" | 0.5 |
| G5 | 0.000005" | +/- .00005" | 0.8 |
| G10 | 0.000010" | +/- .0001" | 1.0 |
| G25 | 0.000025" | +/- .0001" | 2.0 |
| G50 | 0.000050" | +/- .0002" | 3.0 |
| G100 | 0.0001" | +/- .0005" | 5.0 |
| G200 | 0.0002" | +/- .0010" | 8.0 |
General Grade and Properties
Grade
Composition(%)
Physical Properties
TC
Co
Ni
Density(g/cm³)
Hardness(HRA)
T.R.S.(N/mm²)
YG6
Balance
6
 /
14.6-15.0
91
1600
YG8
Balance
8
 /
14.4-14.8
89
1800
YG6X
Balance
6
 /
14.6-15.0
92
1450
YN6
Balance
 /
6
14.5-14.9
90
1450
YN8
Balance
 /
8
14.4-14.8
88
1650
YN12
Balance
 /
12
14.0-14.4
86
1800
More information about other grades, plesae visit:Traditional Grade
Inquiry & Order