---
Tungsten Carbide Pen Ball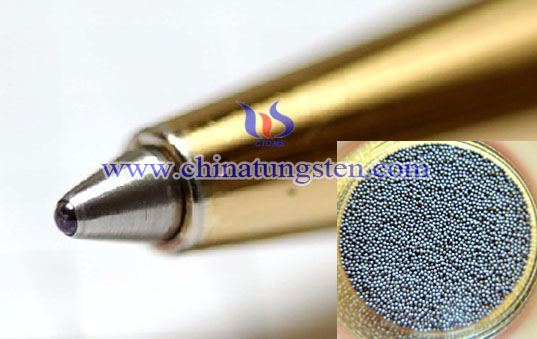 Description
Tungsten carbide pen ball are develpo in the 1970s, oafter the small batch, always adopt a stainless steel as ball pen situation is broken. Tungsten carbide pen ball use tungsten, titanium, chromium multiple composite carbide solid solution,is the most suitable material for tungsten carbide pen ball.
Features
Include high hardness, high T.R.S., high corrosion and lowest price properties.
Specifications
Tungsten carbide pen ball general sizes is smaller than Ø1mm, the most common sizes are Ø0.28mm,Ø0.35mm,Ø0.48mm and Ø0.5mm, the surface condition of the ball is polished for G25. As the size of tungsten carbide pen ball are too small, it is almost have to customized, the MOQ of the ball is 10 kgs.
WC-Co and (WTiCr)C-Co(Ni) Tungsten Carbide Pen Ball Properties
Grade
Composition(%)
Hardness
Density
Balls Volume
WC
TiC
(WTiCr)C
Co
HRA
g/cm3
(%)
YG8
92
-
-
8
89.0
14.76
100
YT15
79
15
-
6
91.0
11.415
129.2
92(№1#)
-
-
92(№1#)
8
92.0
7.571
194.9
92(№2#)
-
-
92(№2#)
8
92.0
6.551
225.2
92(№3#)
-
-
92(№3#)
8
-
-
-
General Grade and Properties
Grade
Composition(%)
Physical Properties
TC
Co
Ni
Density(g/cm³)
Hardness(HRA)
T.R.S.(N/mm²)
YG6
Balance
6
 /
14.6-15.0
91
1600
YG8
Balance
8
 /
14.4-14.8
89
1800
YG6X
Balance
6
 /
14.6-15.0
92
1450
YN6
Balance
 /
6
14.5-14.9
90
1450
YN8
Balance
 /
8
14.4-14.8
88
1650
YN12
Balance
 /
12
14.0-14.4
86
1800
More information about other grades, plesae visit:Traditional Grade
Inquiry & Order