---
Tungsten Carbide Valve Ball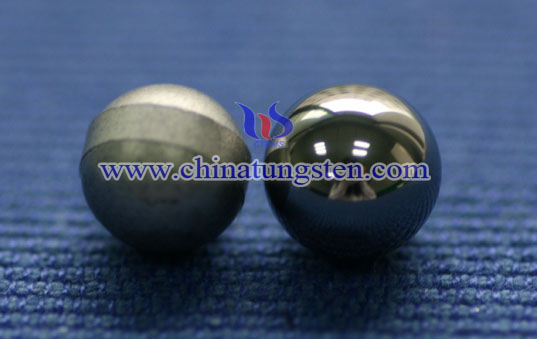 Description
Tungsten carbide valve ball are the material composite by tungsten carbide add with Co or Ni, with high rigidity, no significant plastic deformation and small thermal expansion coefficient in the normal temperature. The valve ball with size stability and high precision.
Features
With high wear resistance, high corrosion, small thermal expansion coefficient, high stability and high precision.
Application
Tungsten carbide valve ball is widely used in many military and civilian high-tech fields rolling the ball bearing industry, fluid sealing rotating ball, valve core, oil extraction machine-way valve, valve seat and so on.
Specifications
The smalles size of tungsten carbide valve blank ball is Ø2mm, the finisehd ball is Ø1mm. Size tolerancs of blank ball is ±0.2mm, the surface of finished ball is G25. But also accept customized.
American Standard Grinding Grades and Tolerance Standard
| | | | |
| --- | --- | --- | --- |
| Grade | Roundness | Diameter Tolerances | Maximum Surface Roughness |
| G3 | 0.000003" | +/- .00003" | 0.5 |
| G5 | 0.000005" | +/- .00005" | 0.8 |
| G10 | 0.000010" | +/- .0001" | 1.0 |
| G25 | 0.000025" | +/- .0001" | 2.0 |
| G50 | 0.000050" | +/- .0002" | 3.0 |
| G100 | 0.0001" | +/- .0005" | 5.0 |
| G200 | 0.0002" | +/- .0010" | 8.0 |
General Grade and Properties
Grade
Composition(%)
Physical Properties
TC
Co
Ni
Density(g/cm³)
Hardness(HRA)
T.R.S.(N/mm²)
YG6
Balance
6
 /
14.6-15.0
91
1600
YG8
Balance
8
 /
14.4-14.8
89
1800
YG6X
Balance
6
 /
14.6-15.0
92
1450
YN6
Balance
 /
6
14.5-14.9
90
1450
YN8
Balance
 /
8
14.4-14.8
88
1650
YN12
Balance
 /
12
14.0-14.4
86
1800
More information about other grades, plesae visit:Traditional Grade
Inquiry & Order